No worries about Sarfraz Ahmed's batting form, Mickey Arthur:
National team head coach Mickey Arthur says Sarfraz Ahmed had no idea what was in mind about setting up a captain.
Talking to the media in Lahore, the national team head Mickey Arthur said that Sarfraz Ahmed's real-time wicket is capping, he has only dropped 8 balls in the last four months, he also knows that the betting form came and She goes on to score a good play team at any number, is working hard, performing well from the bat, I do not have any concern on his form.
In response to a question, he said that Mohammed Aamir has a skill and a tremendous magnitude in the match, likes to bow in pressure, good performance in the last T-Twenty20 match played in Sachin, hopefully, his performance Teamwork will come. Regarding the failures in South Africa, one of the main points is that young cricketers came in performance, performance in the day has also improved, the players are ready for the World Cup, from the pool of 19 or 20 players available for Mega event. The final 15-member squad will be selected.
Mickey Arthur said that he would also consider the new faces coming in PSL, if anybody felt the need for a team then he tried a series against England in a match against Australia after a one-day series against Australia. can go. He said there was no intention in the mind about Sarfraz Ahmed's appointment to captain.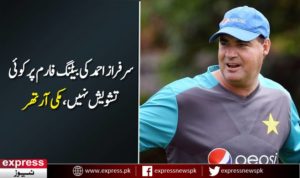 No worries about Sarfraz Ahmed's batting form, Mickey Arthur