Sarfraz Ahmed's final decision to lead the for World Cup, today the announcement:
Karachi: PCB has decided to lead Sarfraz Ahmed to the World Cup, but its announcement is expected to be held on Tuesday in Lahore.
According to the sources, Mr. Ehsan Mani never thought that to make anyone else fit for the wicketkeeper-batsman, but the impression seemed like Shoaib Malik wanted to take responsibility.
It is clear that Sarfraz Ahmed got back to the country after being banned from four matches and speculation was further strengthened, so the board has decided to declare it clear now.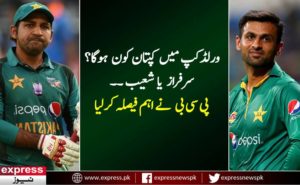 Sarfraz Ahmed's final decision to lead the world for World Cup, today the announcement